DISPOSABLE PLASTER TRAP
ENHANCED HYGIENE AND ECONOMY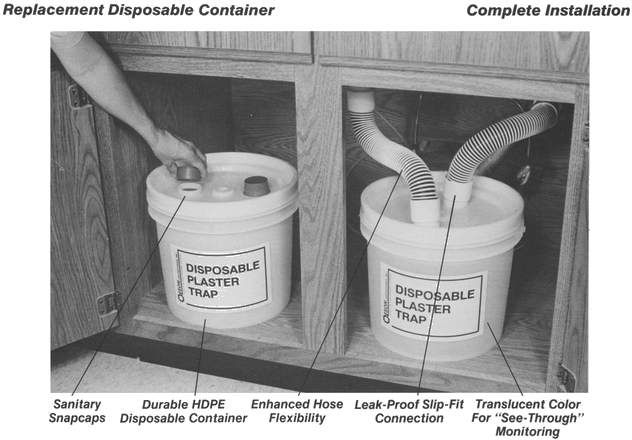 Simple to install, the OLSON DISPOSABLE PLASTER TRAP includes 2 permanent flexible hoses, 1 pipe adaptor, and 1 disposable container. The conventional "U" or "P" trap is removed and the ready-made hoses connect the disposable container to the 1½" sink tail pipe and the wall sewer pipe. Hose ends connect to their respective fittings with hand pressure slip-fits for a leak-proof installation.

Once full, the disposable container is changed in minutes without a plumber, tools, or mess. Simply unplug the hoses from the full container, discard it, and re-insert the hoses into a replacement disposable container. The provided snap caps seal the used container for discarding. Trapped residue remains confined and undercover during changing for greater protection and contamination control in the professional environment.

The disposable container is constructed in a natural, translucent color enabling "see-through" monitoring of residue accumulation. Change as needed; at least once annually regardless of accumulation level.

The DISPOSABLE PLASTER TRAP is available in either 3½ gallon or 5 gallon capacity. The 5 gallon size trap requires a more spacious installation location. Hoses are interchangeable with either size trap.




Page designed and created by Eric Olsson. Send comments to webmaster. Last updated November 26, 2001.